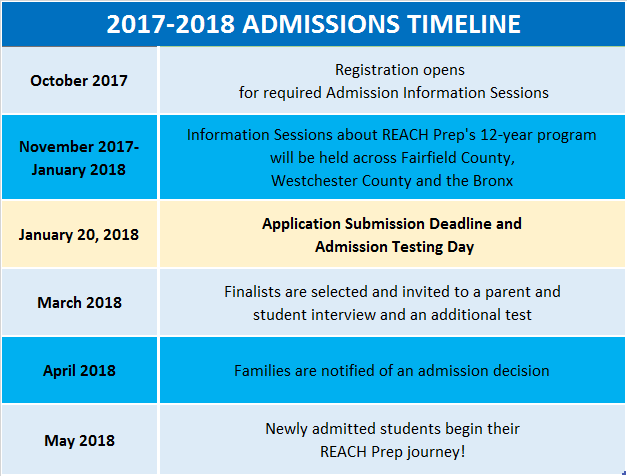 ---
How to Apply:
Review Eligibility requirements:

Black or Latino(a) 4th grade students during the 2017-2018 school year

Residents and students of public or parochial schools in Fairfield County, CT; Westchester County
or the Bronx in NY

Students with a strong attendance and academic record with A's or 4's

Students from low-to-low-moderate income households

Citizens or Permanent Residents of the United States

Able to provide proof of academic merit and family income

Submit the

Admission Inquiry Form

.
Register for an

Information Session

 online or by calling (203) 487-0750.
Attend the Information Session you registered for. Student applicants and parents/guardians are required to attend together. The application to REACH Prep will be provided at each Information Session.
Register for

Admission Testing Day

-- January 20, 2018.
Submit a completed Application by the deadline January 20, 2018. Applications can be submitted in person at Admission Testing Day.

Selected finalists will be invited to interview and take a second test.
* Please note you may register for the Information Session and the Admission Testing Day at the same time.
Please contact Director of Admission and Enrollment, Fiorella Velasquez, with any additional questions by emailing fvelasquez@reachprep.org or calling 203.487.0750