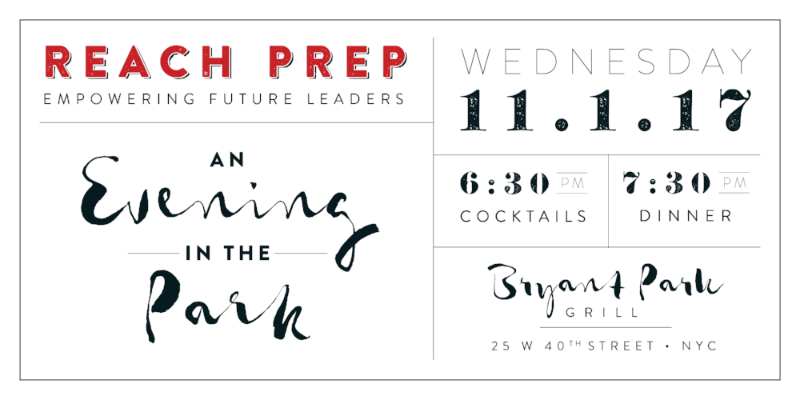 About REACH Prep
REACH Prep provides access to transformative educational experiences that empower underserved, high-achieving students to graduate from top colleges and emerge as the next generation of leaders.
What We Do
REACH Prep helps motivated and talented Black and Latino students from underserved communities in Fairfield and Westchester Counties and the Bronx gain admission to and thrive in rigorous independent schools. Upon placement, students benefit from a 12-year educational continuum, including comprehensive academic enrichment, leadership training and supplementary individual and family guidance, which prepares them to succeed at and graduate from competitive colleges. REACH Prep's model of access to high-quality education along with sustained, comprehensive and long-term support achieves college success rates that defy trends and national statistics.
About the Event
Join us in celebrating and supporting REACH Prep's promising young Scholars at a festive fall evening in Bryant Park. 
An Evening in the Park will feature REACH Prep Scholars and Alumni, a performance by the Baker's Dozen of Yale University, a seasonal menu of fine food and cocktails, and a dynamic live auction offering one-of-a-kind experiences. All proceeds from the evening will go directly to support programming for our Scholars which includes our 15-month Prep Academy program, individualized middle school and high school support as well as college guidance. The REACH Prep Board of Directors generously underwrites our annual fundraising expenses. 
2017 Co-Chairs
Neil & Kim Augustine
Trish & Mark Davies
Paul & Lisa-Claire Triggiani
Ticket prices begin at $500 and table prices at $5,000. Corporate sponsorship opportunities are also available. 
Seating is limited and available on a first-come, first-serve basis.
For more information, please contact Cristina Vittoria, Director of External Relations and Development at
(203) 487-0750, ext. 110 or cvittoria@reachprep.org.