REACH Prep's Annual Benefit Luncheon 2018
Monday, April 23rd
at 11:30am
Hyatt Regency Greenwich
1800 East Putnam Avenue, Old Greenwich, CT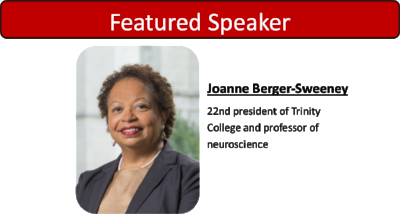 ---
We hope you will join us at this festive annual event on Monday, April 23 to celebrate the accomplishments of our Scholars and the dedication of our partner schools! We are excited to share that our 2018 Luncheon Co-Chairs are Heather Mosley, Lauren O'Shaughnessy, Liz Roddy, Toni Subramaniam and Lauren Walsh. This year's featured speaker is President Joanne Berger-Sweeney of Trinity College.
Joanne Berger-Sweeney, the 22nd president of Trinity College, is a distinguished neuroscientist, professor and administrator. Before joining Trinity in 2014, she was dean of the School of Arts and Sciences at Tufts University. Prior to Tufts, she served as a faculty member and associate dean at Wellesley College. 
Berger-Sweeney earned her undergraduate degree in psychobiology from Wellesley College and her M.P.H. in environmental health sciences from the University of California, Berkeley, and she completed her postdoctoral training at the National Institute of Health (INSERM) in Paris, France. She earned her Ph.D. in neurotoxicology from the Johns Hopkins School of Public Health.
Berger-Sweeney is the first woman, the first person of color and the first neuroscientist to be president of Trinity College. REACH Prep is proud to welcome her as a pioneer in the world of academia and a role model for future generations. 
To be a sponsor, table host or for more information, please call 203-487-0750 or visit us at www.reachprep.org.
---
Moments from REACH Prep's Annual Benefit Luncheon, April 24, 2017:
Thank you to our 2018 Annual Benefit Luncheon Sponsors & Community Partners!