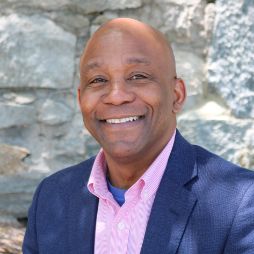 Delano Copprue
Director of College Success
dcopprue@reachprep.org
Delano Copprue brings over twenty years of experience in college and independent school education to REACH Prep. He's taught literature and writing to students ranging from middle school to graduate school to adult life-long learners, has developed and implemented humanities curricula at Columbia University for over a dozen years, and has taught, led, and advised students in and out of the classroom. Delano also developed an advising program centered around adolescent social and emotional well-being as key drivers for academic success for a New York City charter school network.
Delano was a Henry Rutgers Scholar at Rutgers College, and his undergraduate thesis on nineteenth-century American individualism is housed in the permanent collection of the libraries. At Columbia, he earned two master's degrees and a doctorate while conducting original archival research for Harvard University Press, collaborating with NYC writers on book projects, and participated in Columbia's Jazz Studies program. A volunteer and part-time humanities teacher at REACH Prep since 2002, Delano will now work with students as they attain post-secondary success and transition from college to career. Delano joined REACH Prep in 2019.