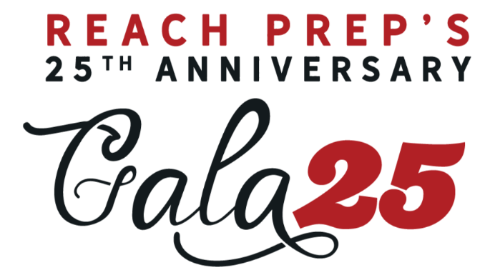 Friday, November 1, 2019
Abigail Kirsch at The Loading Dock
Featured Speaker
Carlos Brito
CEO, AB InBev
REACH Prep celebrated a significant milestone marking 25 years of service at its 25th Anniversary Gala on Friday, November 1st. Over 300 people gathered at Abigail Kirsch at The Loading Dock in Stamford, CT to enjoy a fabulous menu of seasonal cocktails, hors d'oeuvres and dinner, and a live auction with Robbie Gordy from Christie's New York. The program highlighted speeches from Alumni and Scholars, as well as REACH Prep's featured speaker Carlos Brito, CEO of AB InBev, whose inspiring story resonated in such a meaningful way with REACH Prep's work and larger mission.
REACH Prep has raised over $900,000 in recognition of the 25th Anniversary thanks to the outpouring of support received at the Gala and the weeks leading up to it. For this organization, which relies solely on philanthropy and charitable donations, this is a critical achievement that will impact not only today's Scholars but also those who will follow in their footsteps in years to come. REACH Prep is thrilled to celebrate this quarter-century milestone and is grateful for all supporters and partners who have helped the organization grow to where it is today! 
Together, we can continue to open the doors of educational opportunity for our talented and motivated REACH Prep Scholars. Proceeds from the Gala make it possible for us to provide best-in-class programming to over 250 Scholars each year and equip them with the academic tools and life skills they need to realize their potential and their dreams.
REACH Prep's 25th Anniversary Gala Committee
Neil and Kim Augustine, Co-Chairs
Kimberly Clarke, Co-Chair
Mark and Trish Davies, Co-Chairs
Keith and Tracy Grossman, Co-Chairs
Heather and Dan Mosley, Co-Chairs
Paul and Lisa-Claire Triggiani, Co-Chairs
Lisa Argrette Ahmad
Maxine K. Armstrong
Sara & Philip Bartow
Bia & Alex Bettamio
Suzanne & Jim Cabot
Susan & Peter Chapman
Margo & Clay Cole
Judy & Chris Collins
Henry Hoffmann, Jr.
Patsy Howard
Mary & Kim Jeffery
Mara Lehrman
Betsy & Ed O'Reilly
Lauren & Patrick O'Shaughnessy
Carolyn & Andrei Saunders
Toni & Rama Subramaniam
Alexandra Steel Scott
Christina & Roddy Tilt
Patricia Young
---
Gold Corporate Sponsor

Silver Corporate Sponsor

Media Sponsor:

---
Thank you to Fairfield County LOOK for capturing the evening!