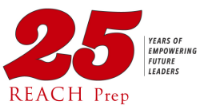 REACH Prep's Annual Benefit Luncheon
Monday, April 29, 2019
11: 30 a.m.
Hyatt Regency Greenwich
2019 Luncheon Co-Chairs
Sara Bartow
Barbara Harty
Toni Subramaniam
Join us in celebrating and recognizing REACH Prep's 25th Cohort Scholars, our accomplished Alumni, and our visionary Founders at the Annual Benefit Luncheon on Monday, April 29, 2019 at the Hyatt Regency Greenwich! 
To be a sponsor, host a table or for more information, please call 203.487.0750 or email development@reachprep.org. We look forward to celebrating with you all in April!

---
Thank you to our 2019 Annual Benefit Luncheon Corporate Supporters!
Media Sponsor:

---
Moments from REACH Prep's Annual Benefit Luncheon, April 23, 2018 at The Hyatt Regency Greenwich:
REACH Prep's Annual Benefit Luncheon 2018 Press:
Darienite
Benefit Lunch for REACH Prep on Monday Features Trinity College President
Greenwich Magazine/ I Love FC
Higher Education Today: Q&A with President Berger-Sweeney
New Canaanite
REACH Prep Annual Benefit Luncheon
Greenwich Free Press
REACH Prep's Annual Benefit Luncheon Features President & Trinity College Professor of Neuroscience
Fairfield County Look
REACH Prep Luncheon