REACH Prep's Annual Benefit Luncheon 2016
Monday, April 25th
at 11:30am
Hyatt Regency Greenwich
1800 East Putnam Avenue, Old Greenwich, CT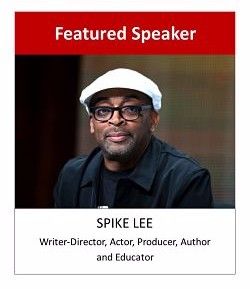 ---
SPIKE LEE is a Writer-Director, Actor, Producer, Author and Educator who has helped revolutionize Modern Black Cinema. Lee is a forerunner in the 'Do It Yourself' school of independent film. Recent critical and box office successes have included such films as Inside Man, 25th Hour, The Original Kings of Comedy, Bamboozled and Summer of Sam.  Lee's films Girl 6, Get on the Bus, Do the Right Thing and Clockers display his ability to showcase a series of outspoken and provocative socio-political critiques that challenge cultural assumptions, about race, class and gender identity. 
His debut film, the independently produced comedy She's Gotta Have It, earned him the Prix de Jeunesse Award at the Cannes Film festival in 1986 and set him at the forefront of the Black New Wave in American Cinema. His 1989 film, Do the Right Thing, garnered an Academy Award nomination for Best Original Screenplay and Best Film and Director awards from the Los Angeles Film Critics Association. His epic drama Malcolm X, starring Denzel Washington, received two Academy Award nominations.
Born in Atlanta, Georgia, and raised in Brooklyn, Lee returned south to attend Morehouse College. After graduation, he returned to New York City to continue his education at New York University's Tisch School of Arts in Manhattan, where he received his Master of Fine Arts Degree in Film Production. After graduation, he founded 40 Acres and a Mule Filmworks, based in Brooklyn.
Lee has also produced numerous documentaries and sports programs. For HBO, he completed the Peabody and Emmy Award winning films When the Levees Broke: A Requiem in Four Acts and If God is Willing and da Creek Don't Rise which revisits the storm-ravaged Gulf Coast region as residents attempt to rebuild in their cities while also demanding assistance and accountability from their political leaders, as well as the Academy Award nominated 4 Little Girls. He received an Emmy Award for his piece on Georgetown's John Thompson for HBO/Real Sports.  
Lee began teaching a course on filmmaking at Harvard in 1991 and in 1993 he began as a Professor at New York University's Graduate Film Program Tisch School of the Arts. In 2002, he was appointed the Artistic Director of the Graduate Film Program. Spike Lee has combined his extensive creative experience into yet another venture: partnering with DDB Needham, he created Spike/DDB, a full-service advertising agency.
---
Moments from REACH Prep's Annual Benefit Luncheon, April 25, 2016: