REACH Prep's Annual Benefit Luncheon 2017
Monday, April 24th
at 11:30am
Hyatt Regency Greenwich
1800 East Putnam Avenue, Old Greenwich, CT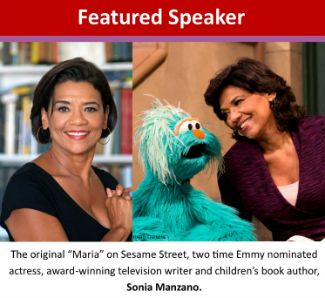 Thank you to our 2017 Annual Benefit Luncheon Sponsors & Community Partners!
---
For over 30 years, Sonia Manzano inspired, educated, and delighted children and families as "Maria" on Sesame Street. Named among the "25 Greatest Latino Role Models Ever" by Latina Magazine, Manzano broke ground as one of the first Hispanic characters on national television. Throughout her career, she has continued to contribute to enriching diversity on television, on the stage, and in the educational realm. A first generation American of Latin descent, Manzano's tale is one of perseverance and courage as she overcame countless obstacles to become one of the most influential Latinas in television.
Sonia Manzano knows a thing or two about determination. Now twice nominated for an Emmy for Outstanding Performer in a Children's Series, Manzano didn't have a lot of resources as a child growing up in the South Bronx. Immensely talented, Sonia never gave up, and within a year of graduating college, Manzano found herself on Sesame Street. An equally impressive and captivating stage actress, Manzano has appeared on stage in several critically acclaimed theater performances, including "The Vagina Monologues," "The Exonerated," and "Love, Loss, and What I Wore." Movies include Deathwish, Follow That Bird, and Elmo in Grouchland. Sonia Manzano is a master storyteller, an award-winning television writer and children's book author. She won 15 Emmys as part of the Sesame Street writing team, and also wrote for the Peabody Award-winning children's series Little Bill.
 A staunch advocate for education, Manzano shares her extraordinary talent to help children to succeed. Infusing humor and charm into her presentations, Manzano inspires audiences with her passion, strength and insight into success. Whether speaking out for literacy, diversity, or addressing the issues children face in our media-saturated life, she is a familiar, engaging voice that brings new light to her roles and to our lives.
---
Moments from REACH Prep's Annual Benefit Luncheon, April 24, 2017: