REACH Prep Achieves Highest Rating on Charity Navigator; Its third consecutive four-star award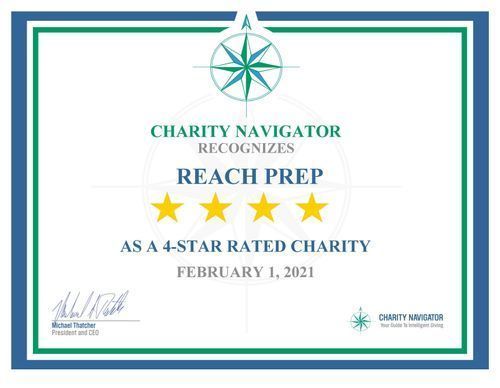 REACH Prep is pleased to announce that it has received the coveted 4-star rating from Charity Navigator for the third year in a row. This rating is based on REACH Prep's strong financial health and its commitment to accountability and transparency.
"We were so pleased to receive this recognition from Charity Navigator again this year. It is  important our donors trust that we are using their donations wisely to accomplish our mission of providing educational access to underserved Black and Latinx students in the region," said Gina Lucas, REACH Prep CEO. "In fact, 86% of the funds we raise go directly to our student and parent programs."
Michael Thatcher, President and CEO of Charity Navigator noted: "Only 26% of the charities we evaluate have received at least three consecutive 4-star evaluations. This verifies that REACH Prep exceeds industry standards and outperforms most charities in the financially efficient execution of its mission."

ABOUT REACH PREP
REACH Prep's 12-year educational continuum starts with a fourth grader's admission into the rigorous, 15-month Prep Academy program. During the fall of fifth grade, REACH Prep works with students and families during the process of admission to independent schools, including test and interview prep, and guidance with financial aid. There is ongoing academic and family support through middle and high school, leading up to ACT/SAT test prep and college admission guidance. Summer opportunities offer a array of academic and experiential learning, as well service opportunities and pre-collegiate programming. REACH Prep continues to work with its students during their college so they are well prepared for graduation, professional positions, and leadership roles in society. The non-profit organization was founded in 1994. For more information, visit: www.reachprep.org. 

ABOUT CHARITY NAVIGATOR
Charity Navigator is a non-profit organization that evaluates the financial health, accountability and transparency of over 8000 charities each year. Its ranking system provides individual donors and philanthropic organizations a validated method for assessing the financial health of potential recipients. For information about the organization, or to obtain information about a specific charity, visit: www.charitynavigator.org.