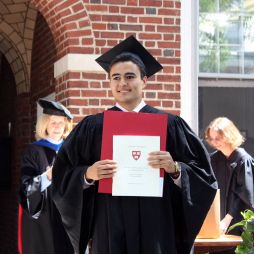 David Jaramillo
RP Cohort 10
Brunswick '10
Harvard University '15
UC Berkeley, Inorganic Chemistry PhD Candidate
"When I was introduced to REACH Prep, I was also being introduced to a new life trajectory.  A trajectory defined by superior educational opportunities and one that seemed boundless, where the only limiting factors were your work ethic and motivation. This is the ideal academic path. While perhaps an idealistic notion, I think all students should have such an educational and personal trajectory available to them. REACH Prep paved the way toward an amazing independent school education and guided me along the way. REACH, however, is not a mere stepping stone. It is an experience that permanently shapes who I am today, and is a connection that I will have for the rest of my life."
David joined REACH Prep in the spring of 2003 as an ambitious and hardworking 4th grade student. A new level of expectations and an abundance of resources enabled David to develop a strong work ethic and encouraged him to set ambitious goals. With the help of expert REACH Prep staff members and faculty, David enrolled at the Brunswick School in the fall of 2004 as a 6th grade student. David thrived in the rigorous academic and athletic environment that Brunswick had to offer. It was at Brunswick where David first realized his passion for both chemistry and philosophy, two subjects he chose to study and make the focus of his career.
In 2011, David graduated from the Brunswick School and enrolled as a first year student at Harvard University. With numerous paid research opportunities available at Harvard, David was able to work in a biology lab his freshman fall. After numerous research experiences, David landed in a lab working on synthesis and spectroscopy in inorganic chemistry. After graduating from Harvard in 2015, David is now pursuing his PhD at University of California at Berkeley where he designs and synthesizes new materials with targeted properties to create renewable energy technologies.