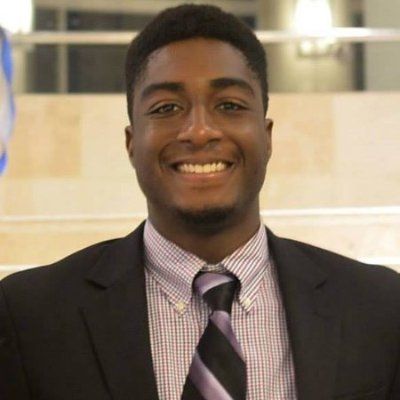 Guilbert Francois
RP Cohort 12
King School '13
Duke University '17
"When beginning my career as a REACH Prep Scholar there is no way that I could have anticipated the effect that the program would have on my life. As a student finishing up elementary school, I only understood that I was sacrificing precious hours of my day - hours that could be spent playing video games or watching cartoons - to sit in classrooms and do homework that was more rigorous than the simpler assignments I was used to. However, the return on that investment has been more than worth it. REACH Prep provided me, a first-generation college student with Haitian-born parents, the opportunity to attend the King School - a respected private school in my city. My time at King, which REACH Prep readied me for and supported me through, allowed me to attend the university of my choice and be prepared to enter the professional world with passion and motivation."
Guilbert was admitted to REACH Prep in 2004 and joined the King School in 2005 as a 6th grade student. At King, Guilbert was a student athlete on the football and basketball teams. Through these two sports teams, Guilbert gained lifelong friendships and learned countless lessons representing both discipline and determination, characteristics he applied inside of the classroom as well. Later in his high school career, Guilbert received an internship in management at the Courtyard by Marriott followed by an internship in digital marketing at Starwood Hotels & Resorts Worldwide. Prior to graduating from King in the spring of 2013, Guilbert received the King School's Anne Ayres Herrick Award, an award voted on by all faculty and students and given to the senior student who most embodies loyalty, integrity and friendliness, characteristics he learned early on during his Prep Academy days at REACH Prep.
In 2013 Guilbert enrolled at Duke University where he received a Bachelor of Science in Economics. While at Duke, Guilbert was a member of the Kappa Omicron chapter of Alpha Phi Alpha Fraternity, Inc., the first intercollegiate fraternity for black men. Guilbert saw his experience with Alpha Phi Alpha as more than a lifelong brotherhood, but also as a group of young men sharing a common interest and commitment to the success and well-being of their communities.
While still enrolled at Duke, Guilbert became a marketing intern for Microsoft and, after graduating in the spring of 2017, he took a full-time position in their ACE Marketing Rotation Program. Guilbert places high importance on the notion of "giving back" in everything he does. His goals for the future are to be in a position to give back to his community and work to minimize discrepancies in the attainability of education and achievement.